Cobie Lee & Becca Fitzgerald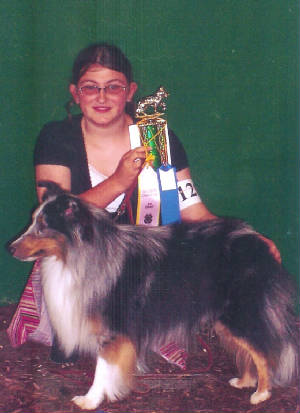 Way to go guys!
Cobie Lee was our special needs puppy. He was oxygen deprived at birth. Many people told us to put him down, but he had so much heart & such a will to survive that I had to give him a chance. At 10 weeks old Cobie was given to my sister in-law (Terri),my Niece (Becca) and nephew (Aaron). Needless to say he is spoiled rotten. Terri says he is one of the best dogs she has ever owned.
This year Cobie was started in Obedience,Showmanship & Agility. It is going to take a while to master the A Frame & Dog walk, but he excells in Obedience & Showmanship with Becca. Their very 1st year of showing for both of them, they finished Reserve Champion Obedience dog out of 29 entries!
Thanks Guys for giving him the chance & Cobie Lee.....
YOU GO BOY!!!!!!!!
G-Man,Shady,Nick,Abby & Willie Payne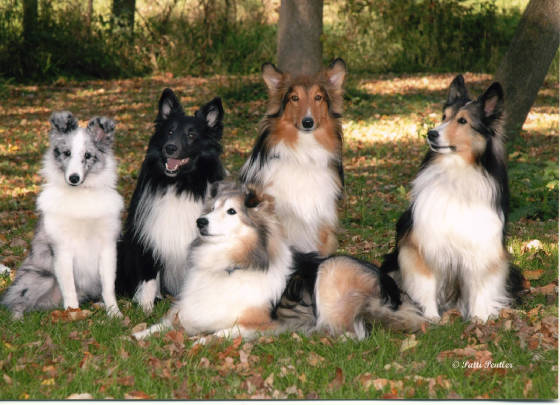 Little G man is 13 1/2" Bi Blue litter brother to Devin. G is in Agility & Obedience training.
Miss Shady is a 14" Bi Black MACH4 (other titles as well) sired by our Nik (Karmun's Tough Act To Follow) and out of our tri girl Brianna (Four Season Elegant Breeze).
The other 3 dogs pictured are Nick,Abby (I believe is MACH 4) & Willie in the front. Willie is 14 years old. What a face!
These wonderful dogs are owned by our friends Jim & Judy Payne. They are fantastic! What a great job they are doing with their Sheltie family! Good luck at the Nationals with Shady,Nick & .Abby
Shady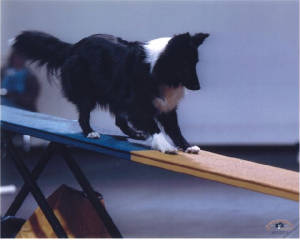 Shady at Halloween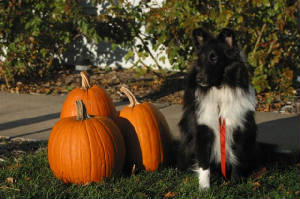 Payne Shelties
Front to back:Shady,Abby,G & Nik
Lizzie a Roadie puppy at 9 months old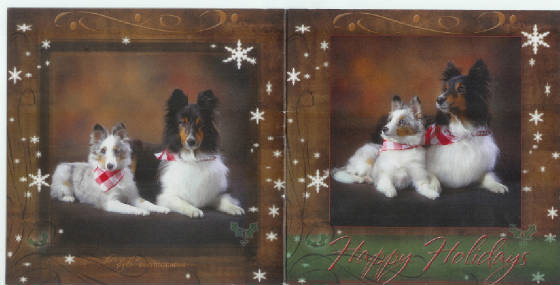 Lizzie is all of 12 1/2" pictured with her sister Kizzy (8 years old)
Lizzy & Kizzy owned by Michelle Molhourn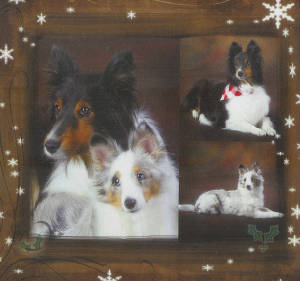 What a beautiful Christmas card they make!
If you have one of our puppies and would like to see them pictured on this page, please email a photo saved in jpeg format to
nbsjz@yahoo.com